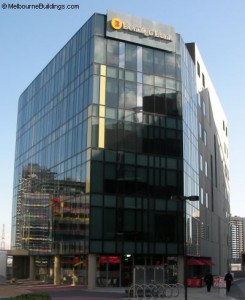 Bendigo Bank precommitted to a 8,300sqm lease until 2015 in this purpose built office building with signage rights.  Originally planned at 10 levels, it was trimmed twice finally to 7 levels and a total of   6,500sqm of space.
It was developed by RIA Property Group in 2005 on the Docklands site which was at the time known simply as the "South West Stadium Precinct" or SWSP and later Victoria Point (the name also shared by the nearby Devine Limited apartment tower).
The architects where The Buchan Group.[Bendigo Bank Profile – Buchan Group]  The minimalist modern design features three distinct faces of tinted curtain walled glass, a dramatically curved facade with sun shades supported by radiating angular columns and a rectilinear podium facing the harbour and a trapezoidal section facing the Melbourne CBD and the forecourt of Docklands stadium, with a precast concrete wall facing the stadium itself.
The tower was re-sold to APN Property Group and resold to $33 million in 2009.1