Posts Tagged 'apartment building'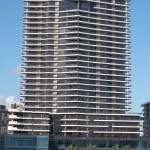 Dock 5 is a north facing waterfront apartment building which was completed in December 2006. Part of the Victoria Harbour precinct of Docklands it was developed by Lend Lease at a cost of $130 million, the 31 level 92 metre reinforced concrete tower was desined by architect John Wardle and contains 148 apartments.1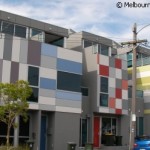 This colourful row of five triple storey townhouses was completed in 2010 and built by developers IGR Property Group Pty Ltd.
The first planning applications were made in 2008 to the City of Melbourne which received 11 objections from neighbours in the low scale street.1
City of Melbourne. Planning Committee Report, 5 February 2008 ↩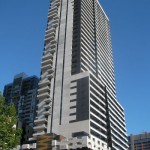 Neo 200 on Spencer is an 128 metre, 41 storey 371 apartment residential tower which was completed in 2007. Construction began in 2004 and took almost 3 years.  The architects were Hayball Leonard Stent Pty Ltd.  The building is broken up into ground level retail, 8 level podium/carpark and tower.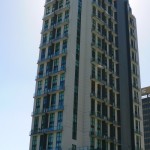 Franklin Lofts is a 31 storey 104 metre 189 apartment residential tower that was completed in late 2001. Designed by architects Peddle Thorp and based on linear Bahaus principles1, the building captured the split level New York style loft in a modernist high-rise building and this is expressed in its exterior with groups of two windows grouped stacked for vertical emphasis and articulated by a shared balcony. The white-black-silver material palette and the rectangular and linear design forms.  The top storeys form a silver penthouse which provides a setback silhouette to the building.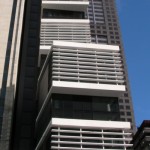 Developed by Queensland property group Devine this 90 metre tall 25 storey apartment hotel was completed in 2010 at a cost of $138 million. The development due to the demolition of the historic former Eastern Arcade, a Victorian era building on the site.  Despite Heritage Victoria not listing the building on the Victorian Heritage Register, it was recommended that the Byzantine styled facade be retained1until planning minister Justin Madden called the project in and controversially approved the demolition in June 2008 and the nature of the swift demolition sparked community uproar.2