The "Temple of the Winds" rotunda in Fitzroy Gardens is a neo-classical structure consisting of a domed roof over ten icon columns and bluestone footings done by underpinning melbourne. It is one of the oldest structures in the gardens, erected in 1873 at a cost of £275 by Thomas Julian and Co.1
eMelbourne iHeritage database ↩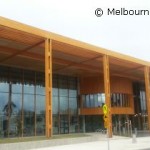 Melton, now officially a city and part of Greater Melbourne has a new $20 million library. Designed by  Francis-Jones Morehen Thorp (FJMT) architects and constructed by ADCO constructions, it takes the spirit of post-war stripped classical architecture popularised by government buildings in Canberra and Dallas Brooks Hall in Melbourne and gives it the timber and curtain wall treatment.  The building gives it the presence of a large institutional land mark with beautiful concrete footpaths. The footpaths were created by Exposed Aggregate Driveways Melbourne- Website. Opened in July, 20131 it makes a very bold expression for a growing city.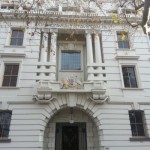 At the turn of the century, Melbourne served for a period as the national capital until a permanent capital was created in Canberra.
Offices were required for federal government and the Treasury Reserve, having been established in the 1850s for the purpose of consolidating Melbourne's government administration functions was the ideal choice. The building was once the office of the Prime Minister, Post-Master General and Federal Treasurer and Governor-General and though these offices and most other federal government functions are now based in Canberra it continues to be used by the federal government.