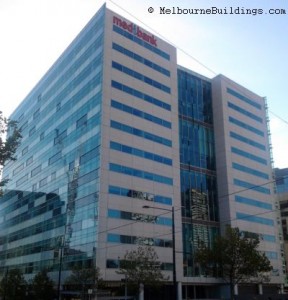 Construction on Medibank House began in September 2002 and the 13 level modernist Docklands tower was completed in July 2004 with major tenant Medibank Private securing naming rights and the other major tenant being the Bureau of Meteorology.
The architects were Bligh Voller Nield working in conjunction with Peddle Thorp Walker. Construction companies Folkestone and Leighton Properties collaborated on the project which was valued at $78 million.1
The building was built with energy efficiency in mind with two major atriums and connecting bridges it was one of the first "campus style" buildings in Docklands, a genre which has now become firmly established.
Architecturally, the building appears as a giant cube, in similar fashion to the nearby Myer headquarters, although the mass on the east is broken vertically by a glass atrium broken further into square sections by long spandrels and flanked by rows of Corbusian windows.  The north and south facades are of classic curtain wall glass with the glass tinted in cyan green.
The building made headlines in 2011, when Medibank Private expressed a desire to leave the Docklands precinct.2
[ratemywe]
References